Biometabolic chemistry / Medical biochemistry
Biometabolic chemistry / Medical biochemistry
Teacher
Name:Nanae Harashima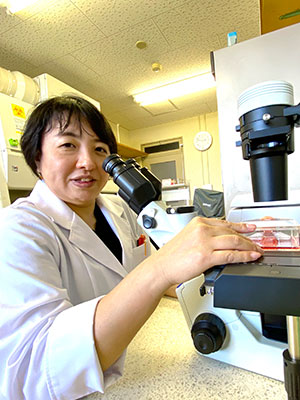 Education
Biomolecular chemistry, Seminar on biomolecular chemistry: Introduction to related papers about biochemistry, metabolomics, and clinical biochemistry and discussion about study methods and clinical applications. (Presentation and discussion about methodology, and experimental techniques in cancer research.)
Advanced analysis of biomolecular chemistry: Read the most current papers on biochemistry, molecular biology, immunology related to cancer sciences, and clinical approaches.
Research
The mechanisms of therapeutic resistance against cancer
Anti-tumor effects of antioxidant (e.g., polyphenols) from subtropical plants
Research on the relationship between induction of anti-tumor effect and hypoxia-inducible factors
Research on cancer microenvironment and immune response
Title of thesis for Master or Doctor of Health Sciences
Message
Immune cancer treatment including immune checkpoint blockers is focused on as the fourth remedy in cancer therapies. However, there are many cases that have shown resistance against several tumor therapies. The causes are immune escape, proliferation of immune suppressor cells, existence of cancer stem cells, and cancer microenvironment including adaptation to low oxygen. Therefore, we study this to disclose the mechanisms of getting therapies or multidrug resistance against cancers and expect that our research will help the management of cancer patients.