カルミナ・グエヘーロ

Alumni's Voice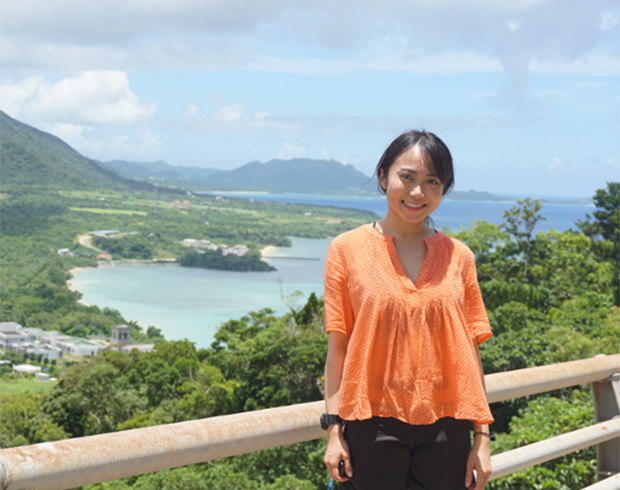 カルミナ・グエヘーロ
---
保健学研究科
博士後期課程
2020年度修了
Academic and work experience
June 2015: Graduated with a Bachelor of Science degree from the College of Public Health at the University of the Philippines Manila

July 2015 – September 2015: Worked as research assistant in the Research Institute for Tropical Medicine, Philippines

October 2015 – September 2017 : Entered the Master course program of the University of the Ryukyus Graduate School of Health Sciences (UR-GHS) as a Japanese government (MEXT) scholar, under the supervision of Prof. Takuya Fukushima (Lab. of Hematoimmunology)

October 2017: Entered the Doctoral course program of UR-GHS

During my time in UR-GHS, I was also able to work part-time as a teaching and research assistant in the laboratory of Hematommunology, assisting in research related to the Human T-cell Leukemia Virus Type 1 (HTLV-1) and its associated disease, Adult T-cell Leukemia/Lymphoma (ATL).
Reasons for entering graduate school
I initially wanted to be a medical doctor and enter medical school (medical school in the Philippines is a 4-year course after graduating college). In my last year of university, I realized I wanted to expand my horizons. I wanted to travel, learn more about other cultures, and increase my knowledge of public health from a different point of view, before committing to one line of work or entering medical school.
About research in graduate school
My research in the laboratory of Hematoimmunology focuses on HTLV-1 and ATL, with various research topics including the prevalence and risk factors of HTLV-1 in rural areas in the Philippines, and proteomic profiling of HTLV-1 and ATL patients in Okinawa. My colleagues and I exchange various ideas and comments on all research activities, laboratory techniques, data analysis methods, and research articles on a regular basis, to continuously expand our skill sets.

With proper balance between research and extra-curricular activities, I was able to: study Japanese language and Business Japanese in UR, make long lasting friendships from all over the world, travel and explore Japan, attend conferences in various places in Japan, US, and South Korea.
Through the help and connections of professors in UR-GHS with other countries, my friends and I were also able to attend a summer exchange program in the College of Public Health at the Taipei Medical University with other university and graduate students coming from various countries. In addition, I was able to acquire a Japanese driver's license. It was a daunting but rewarding task that I am very happy to have achieved! (riding the buses can be fun and relaxing sometimes, but a car is almost necessary to enjoy Okinawa to the fullest).

As a graduate student I learned to love reading and writing research articles, as well as giving presentations. I also love having discussions regarding health and research with a variety of people from across the globe. Finally, I also learned to improve important skills such as data-management, time-management, stress-management, teamwork, public speaking, and intercultural communication, among others.
Future activities
In the future, I wish to further my knowledge on health issues in the world and hopefully become a positive impact in health development. I hope I can use my experiences to improve relationships, further idea-exchange, and bridge cultural gaps between various countries, especially Japan and the Philippines.
Message to future graduate students
Being a graduate student can be incredibly tough, especially in a foreign country. There are language and cultural "barriers", and as a foreign student, you will be different from others, and most likely have a different way of doing things. However, this also means you may have an interesting idea or a creative way of accomplishing tasks, so do not be afraid to exchange ideas and listen to the ideas of others.

There are times when it is almost impossible to balance your social life, academic life, and sleep. Accumulation of stresses may take a toll on mental health if not properly managed, so please do your best to do what is smart and right! Constant communication with your friends and family will keep your mental health strong and happy. You must learn to accept that sometimes you need help from your colleagues, so do not be afraid to break through these "barriers" and reach out to someone.

There are many difficulties, but they will be more often than not worth it, as there are plenty experiences gained, lessons learned, rewards achieved, skills unlocked, and friends made.

Finally, you must not forget to enjoy the little things in life (visiting a nearby beach is usually therapeutic!). So, make sure to exercise, eat, drink, play and enjoy the journey in the University of the Ryukyus!